We indicate below the best accommodation deals in the official hotel where the International Chess Festival Sunway Sitges takes place (Hotel Sunway Playa Golf & Spa, 4 stars). You can also find on this page other accommodation options in Sitges (Sitges Sunway appartments). The minimum stay of 10 nights is required to confirm the reservation at a special Festival rate.

Please mind that if you want to stay in the official hotel, the Open Tournament registration is free. If you choose to stay in the Sunway Sitges appartments, the registration has a discount of 50%. (*)

* Only players who spend at least 10 nights during the Chess Festival at the official hotel or at Sunway apartments in Sitges will benefit from the free registration or the discount, has not been invited by the Organization and only if their booking is done directly with the hotel ( Web: sunway.es · Ph.: + 34 93 811 34 10 ) or through the Organization of the Festival (info@sunwaychessfestival.com).
In the hotel (free registration):
The Sunway Playa Golf & Spa Hotel is home to Sunway Sitges International Chess Festival. Located on the seafront of Sitges (40 km. South of Barcelona), it is a beachfront hotel next to the golf club, in the residential area of Sitges
The hotel has 2 swimming pools (one heated), a gym, terraces, jacuzzi, two beachfront restaurants – the only ones on the promenade of Sitges with a direct view of the Mediterranean -, convention center, parking and indoor garage, and a small supermarket for the customers. It also has a spa and a beauty center equipped with massage parlours, nsaunas and a Turkish bath with spectacular views, etc. Of course, the hotel has multiple rooms where the games will be held during the chess festival.
All apartments and rooms have air conditioning, satellite television, telephone and free Internet (ADSL + WiFi), allowing the guest to relax and feel at home during their stay in Sitges. All rooms and most apartments in the hotel have a great view of the sea and of Sitges golf club.
The Hotel Sunway Playa Golf & Spa Sitges (4 stars) offers participants of the International Chess Festival Sunway Sitges the following accommodation deals in the official hotel.
All rates include half board (breakfast and dinner) with free registration
* Half board with breakfast and dinner included
Players who wish to stay in the hotel during the chess festival can book through any of the following methods:
Enviando un correo electrónico a info@sunwaychessfestival.com
Calling (+34) 93 811 34 10. (+34) 93 811 34 10.
Sending a fax to (+34) 93 894 14 64.
In order to be eligible for the prizes, it is essential that players staying at the official hotel inform the Festival Organization once the booking is made. These players will appear in the lists with a specific sign next to their name.
Apollo (registration -50%)
2 Adults: 87 €/night
3 Adults: 99 €/night
4 Adults: 110 €/night
1 Adults: 76 €/night
2 Adults: 76 €/night
Arizona (registration -50%)
4 Adults: 127 €/night
5 Adults: 127 €/night
6 Adults: 127 €/night
SOLD OUT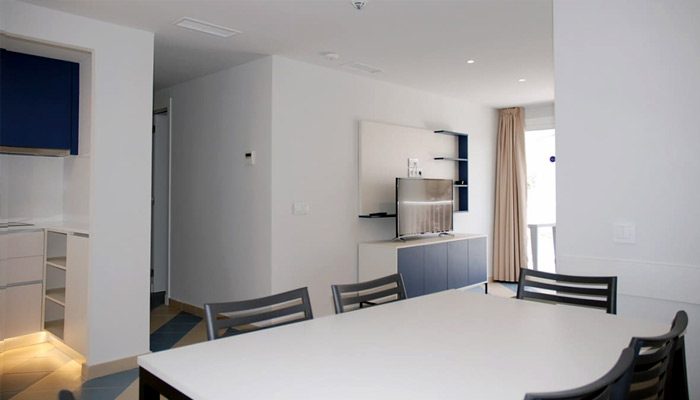 Tara (registration -50%)
San Jorge (registration -50%):
Amapola (registration -50%):
2 Adults: 79 €/night
3 Adults: 87 €/night
4 Adults: 87 €/night
1 Adults: 72 €/night
2 Adults: 72 €/night
3 Adults: 110 €/night
4 Adults: 110 €/night